Displacement Pumps
Upon rotation of the gears, the medium is trapped in the interdental spaces transported from the suction to the pressure side and displaced there by the interlocking teeth to the pressure side.
By transporting the pumped liquid creates a pressure drop on the suction side of the pump, whereby the pumped liquid is sucked in and the flow is maintained.
Positive displacement pumps are self-priming and have a nearly constant flow rate at different pressures.
The achievable delivery pressure depends on the installed engine power.
For safe operation, the fluid must have a minimum lubricity.
Installing a pressure relief valve on the pump or in the pressure line prevents the blockage and thus damage to the pump.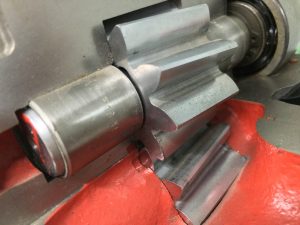 Display 15 Products per page