Diaphragm pumps are self-priming and transport delicate media or media with high viscosity gently and safely.
Regardless of whether aggressive, abrasive, non-lubricating or highly flammable liquids are conveyed.
The flow rate is slightly pulsating depending on the stroke frequency. These small pressure amplitudes can be almost eliminated with pulsation dampers.
A

dvantages
easy to use

no contamination of the conveyed material, since the drive is hermetically sealed

Dry running, therefore no monitoring required

low maintenance costs, as solid and durable constructions

suitable for Ex-use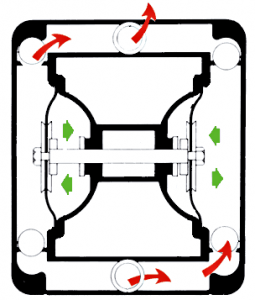 Display 15 Products per page